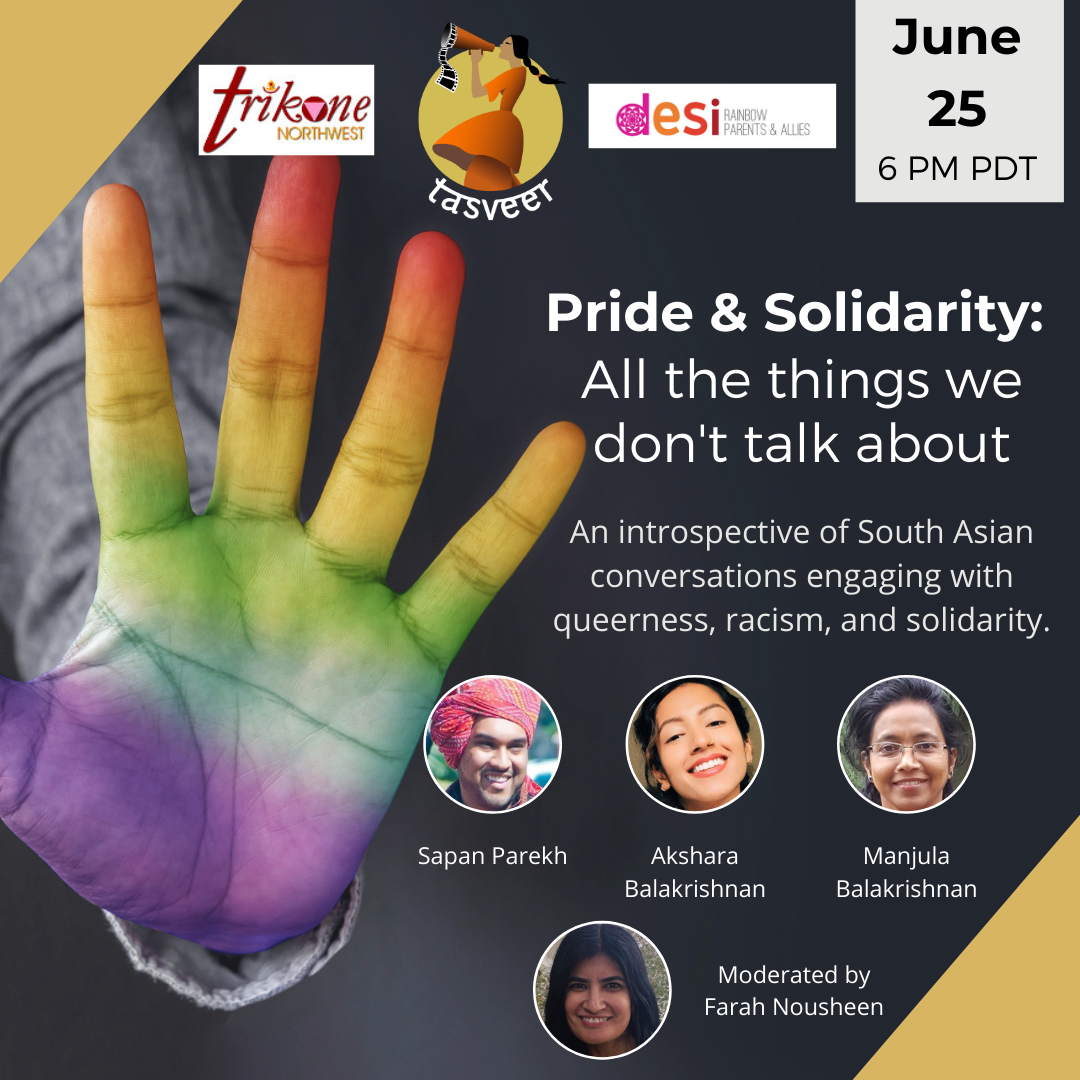 Pride Month 2020, much like its preceding months this year, started off with a lot of reckoning, uncertainties, and also hope. With a lot of our internal conversations revolving around intersectionality, anti-racism, and gratitude for the huge part played by the Black LGBT community in the rights we have today, we'd like to start and continue this dialogue at Tasveer, in partnership with Trikone NW.
To celebrate Pride, Tasveer organized a panel discussion focusing on all the things that are usually overlooked in discussions about Pride in the South Asian context. In this event, we touched upon topics of race, how to be better allies, starting and continuing inclusive community dialogue, and more. We had Tasveer co-founder Farah Nousheen moderate as well as participate in the panel alongside Sapan Parekh, and the mother-daughter duo Manjula and Akarsha Balakrishnan.
The event started off on a note of gratefulness with a land acknowledgement to the indigenous ancestors of the land. With over 30 people watching the event live, we dived right into the dialogue around Pride in the South Asian context. Starting off with the intersectionality of race and being queer, all our panelists shares their lived experiences with being South Asian and being queer in the US and India.
Each panelist contributed with varied diverse experiences — Farah with her experience of being an "illegal alien and queer", Sapan being an "Indian-American and gay" on what it means to have a hyphenated identity, Manjula with her immigrant experiences of microagressive racist acts, and Akshara with her experience of finding her identity in her body. This dialogue, that spanned over various discussion points for nearly 2 hours, also saw a lot of audience participation.
Some of the other discussion points included postcolonial effects, the concepts of binary and non-binary, personal and political identities, and more in the South Asian and American contexts. We also had audience questions interspersed into these topics that broadened the conversation and brought in more curiosity and perspective to the dialogue.
To watch the full video, click here.