Ask the Sexpert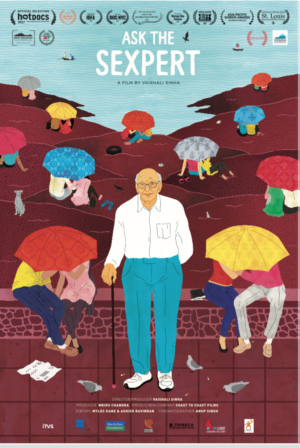 83 mins || Multi-Lingual || India || 2017
Ask the Sexpert is a feature length documentary about a highly popular 90-year-old sex advice columnist for a daily newspaper in Mumbai. Despite sex being a taboo topic in the country, the column's brand of non-moralistic advice and humor has emboldened many to write in with their questions, the vast majority of whom seek basic information. The columnist gains popularity even while a ban on comprehensive sex education in schools is adopted by approximately one third of India's states.
Director's Bio
Vaishali Sinha was born and raised in Mumbai. She co-directed/produced the feature documentary MADE IN INDIA about the personal stories behind the phenomenon of outsourcing surrogate mothers to India. The film premiered at Hot Docs Film Festival and aired on PBS in 2012. The film received several Jury awards at festivals and is currently a case study at Harvard Business School for their class on ethics.
Ask the Sexpert is Vaishali's second feature length documentary; a presentation by her company Coast to Coast Films. The exploration of issues around women's sexuality and rights has been an area of interest in her films. In 2012, as an extension of her work, Vaishali became quite interested in the idea of making a film that would look at male sexuality through the lens of a therapist or a counselor. "I figured that's the one safe and confidential space where many Indians would feel most honest and open about divulging their feelings about sex and sexuality, since it has been such taboo topic for so long," Vaishali says.
Vaishali has also produced numerous shorts. She has received support for her films from ITVS, the MacArthur Foundation, Tribeca Film Institute, Catapult Fund, Firelight Media, Playboy Foundation, Chicken & Egg Pictures, The Fledgling Fund, Center for Asian American Media, Mozilla, Ford Foundation, Nextpix and more.
Vaishali also freelances at Videoline Productions founded by Peabody award-winning filmmaker Richard Wormser (Rise and Fall of Jim Crow). Vaishali speaks regularly at events and has acted as jury member at film festivals. In the past she has worked with women's right group Point of View, in Mumbai. She is originally from Mumbai, and now resides in Brooklyn, NY with her husband Fred Lassen, a Music Director and their two-year-old son Luca.
Saturday, April 21, 2018, at 8 p.m.