From the Land of Gandhi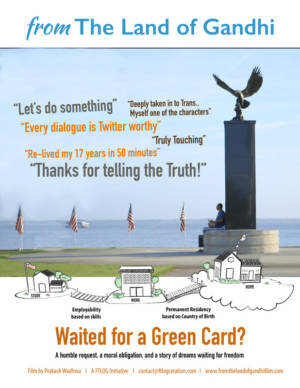 48 mins || English || United States || 2017
Imagine a naïve dreamer coming to the US. Imagine that dreamer not having the power to live freely for decades because of their land of origin. Today a high-skilled immigrant from India could wait more than 20 years to be a full member of the US society, often tied to an employer, unable to change careers or start businesses and living temporarily in their minds. This story of 4 immigrants, a decade after they came to study in the US, places a human face to the broken high-skilled immigration system. It sheds light on this largely unattended story of one million dreams waiting for freedom. It also highlights the need for reforming America's high-skilled immigration at a time of intense globalization and the retirement of the baby boomers.
Director's Bio
From the Land of Gandhi was directed by Prakash Wadhwa.
Between Pudukkottai & Singapore: Poems by N Rengarajan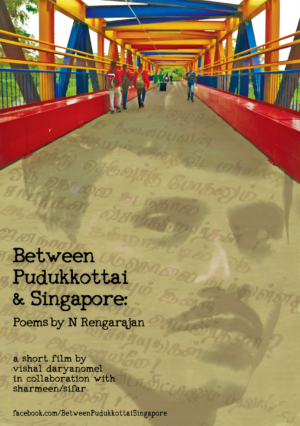 20 mins || Tamil || Singapore || 2017
Originally from Pudukkottai (India), N Rengarajan works in Singapore's construction sector.
Featuring three of his poems which subtly elucidate the realities of migrant life, the film also highlights pertinent issues such as employment processes, exorbitant agent fees, financial debt, and commonly held perceptions of migrant workers.
The work shows the multi-dimensional talents of an individual from a much overlooked community in Singapore. A community that has been indispensable to the building of this city-state, but one that has rarely been given the credit they deserve. Through Rengarajan's perspectives, the film navigates through themes of loss, sacrifice, and the strengths and dreams inherent in all of us, regardless of occupation, nationality, race, and class.
Director's Bio
Vishal Daryanomel is an independent filmmaker from Singapore. He is also a volunteer helping to organise the annual Migrant Worker Poetry Competition, and has worked with various other NGOs in Singapore. His interests include exploring how film can be used as a tool of testimony and empowerment for minority and marginalised voices.
Saturday, April 21, 2018, at 2 p.m.