Guns and Guitars: A Musical Travelogue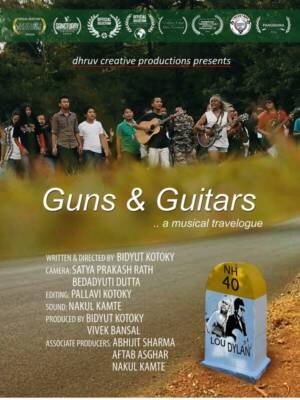 94 mins || Multi-Lingual || India || 2016
The 8 northeastern states of India connect with the rest of the country with a corridor a mere 21 km in breath in places, but share more than 4500 km of international borders with 5 different countries. Filmed as a travelogue, this musical quest brings to light the positive influence of music emanating from the youth living in this region, which has been crippled by state and non-state violence for the last half a century.
Director's Bio
Bidyut Kotaki's father's profession took his family all over the northeast. After school, Bidyut left for Pune for his higher studies and obtained a Masters degree in Economics, and another in Mass Communication. Very early in life, Bidyut had decided his vocation: filmmaking. For his stories he never had to look further than his ever-growing bond with his homeland. He has made more than 100 short films about the northeast and has taken the sight, smells, and tastes of the land to the outside world.
His first feature film as writer/director, Ekhon Nedekha Nadir Xipare (As the River Flows), was bi-lingual (Hindi & Assamese) and was produced by National Film Development Corporation (NFDC). The Assamese version was released in September 2012 and did the festival circuit. The film won the Best Script (Bidyut himself) and the Best Actor (Sanjay Suri) awards in the 2013 Washington DC South Asian Film Festival, winning critical acclaim. He also won the Best Script award for the period 2010-2012 in the Assam State Film Awards for the same film. Recently, the film won the Audience Choice Award in 2014 North Carolina South Asian film fest.
Bidyut is working on a pair of feature films, Rainbow Fields and another on how football lured a group of youngsters away from guns and terrorism, called Shot in the Dark…
Saturday, April 21, 2018, at 12 p.m.