Seattle Asian Art Museum, Seattle – Saturday, April 16th – 4:30 PM
SAPWN: Leveling the Workforce – What's Working
Join us during Aaina festival, as we host an interactive panel discussion to explore the concrete measures that we can take to level the workforce. SAPWN is proud to present our panelists of south asian women from the Seattle area who are leaders in Academia, Corporate and Social Ventures. We also want to hear your stories and suggestions during this interactive discussion.
Since seats are limited and we appreciate a headcount, please register here by clicking on this form.
Agenda
4:30-5:00– arrival, meet and greet and open networking
5:00-6:00– panel discussion moderated by Kavita Garg( SAPWN lead)
6:00-6:30–Q&A and interactive networking
Panelists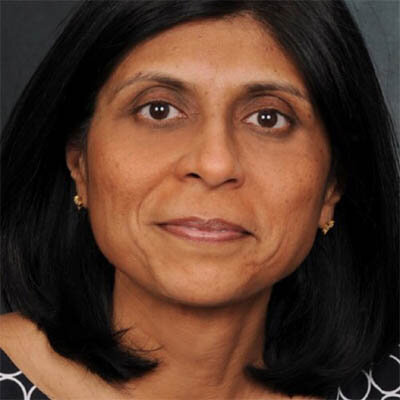 Anju Rao
Anju Rao, a food scientist by training is a contributing member within the food industry and recently relocated to the west coast to pursue her career aspirations with Starbucks where she is focused on product quality and customer experience. She was formerly Director of Research and Development for Campbell Soup Company with accountability for product and process development for approximately $1.0B Net Sales consisting of established brands like Swanson, Prego and Pace. Her fourteen year tenure at Campbell's spans multiple business units, both in Retail and Foodservice focused on sustaining innovation and productivity. Anju continues to have a successful track record of execution rooted in consumer insights contributing to growth and profitability for the company and has been recognized with awards for extraordinary performance in the marketplace.
Anju earned her Doctorate in Food Technology from Clemson University with a minor in food packaging focused on the study of soy proteins and functionality that facilitated the development of protein hydrolysates for use in infant formulas. She is energized by business challenges that enable the use of technical expertise to operationalize business plans anchored in consumer need states and customer demand.
Anju believes in the cause for education and shares her experience with faculty and students, while serving as a contributing member of the Advisory Board at Cornell University and Adjunct Professor at Clemson University. She enjoys travel with her family and intends to have completed her journey around the world in the next two decades!!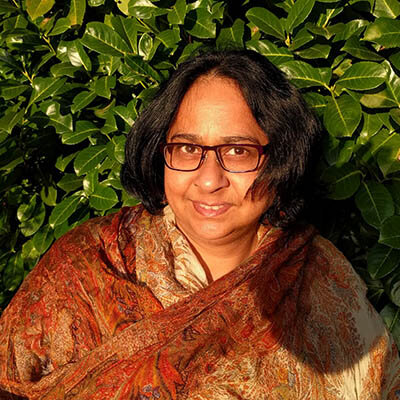 S. Charusheela
S. Charusheela is Associate Professor in the School of Interdisciplinary Arts and Sciences, University of Washington, Bothell, and served as Associate Dean for the School from August 2012- July 2015.  She received her BA in Economics from Delhi University, and her Ph. D. in Economics from UMASS Amherst.  Her work focuses on gender, development, and globalization.  Charu was Editor of Rethinking Marxism from August 2009 – July 2013.  She finished serving two terms as an elected member of the Governing Board of the Cultural Studies Association (US) in May 2015. She is committed to questions of gender equity, having served twice as an elected board member for the International Association for Feminist Economics, and acted as the convener/co-convener for the Feminist Pre-conference at the South Asian conference (Madison, WI) from 2005-2009. nce with faculty and students, while serving as a contributing member of the Advisory Board at Cornell University and Adjunct Professor at Clemson University. She enjoys travel with her family and intends to have completed her journey around the world in the next two decades!!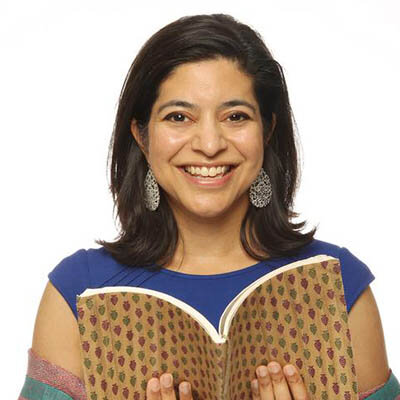 Sachi Shenoy
Sachi Shenoy is the Co-Founder and Chief Innovation Officer for Upaya Social Ventures, an organization that creates dignified jobs for the poorest of the poor by investing in small and growing businesses in India. She currently serves on the Board of Directors for Upaya and the Global Leadership Forum, and on the Advisory Board of the Chicago Booth Social Enterprise Initiative (SEI). Her work has been featured in Wall Street Journal – India and the Stanford Social Innovation Review. In 2014, she was named to the Puget Sound Business Journal's "40 Under 40" list, an honor that "spotlights the top business leaders under the age of 40 who excel in their industry and show dynamic leadership."
Sachi spent three years at Unitus, where she most recently served as Director of Global Programs and led the Social Performance Management Implementation Project (SPM IP) and Sorenson / Unitus Ultra Poor Initiative. Prior to Unitus, Sachi served as Area Manager at SKS Microfinance Pvt. Ltd., leading the organization's entry into the New Delhi urban microfinance market. In 2005, Sachi authored the business proposal for the SKS Ultra Poor Program, designed to uplift rural, destitute populations. Sachi has also worked at New York-based CDVCA, where she evaluated seed-stage social enterprises and constructed investment recommendations for its Central Fund; JP Morgan Chase, where she worked in the Sales & Trading division; and Price Waterhouse LLP, where she served as a management consultant for the
financial services industry.
Sachi holds a B.A. in Economics and an M.B.A. in Finance and Entrepreneurship with High Honors from the University of Chicago.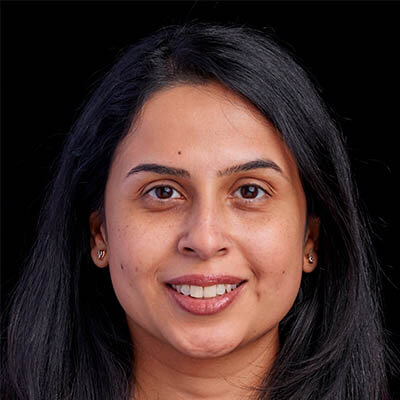 Smita Joshi
Smita Joshi is Sr. Manager of Software Development at Amazon in Seattle where she has worked in various engineering roles building highly scalable software features and services for multiple Amazon businesses over her tenure there. Over 11 years at Amazon Seattle, she has lead multiple teams that have built software to scale Amazon's high traffic and e-commerce ventures for retail verticals spanning media to fashion.  She was the founding engineering partner for the launch of MyHabit.com, Amazon's fashion and lifestyle destination for which her teams built the website, mobile applications and tier-1 services. Most recently, she lead front of house engineering teams that launched Amazon's first physical retail outlet "Amazon Books" at University Village in Seattle. Spanning a career of 16 yeasr, Smita has experienced various cultures of the software industry from indigenous software companies in India and US to non-profit companies focused on software development, each of which has its own flavor of gender diversity scenarios.
Smita holds a Bachelors and a Masters degree in Computer Science from the University of Pune, India with Distinction and Top 10 University Rank for
each degree. She has also taught computer science and programming at colleges within the aegis of the University of Pune, India.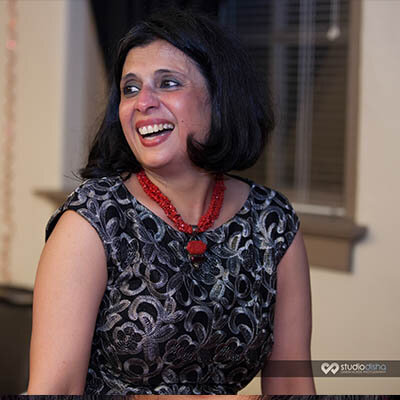 Meenakshi Rishi
Dr. Meenakshi Rishi is a Professor in Economics at Seattle University.  She is the current holder of the Howard J. Bosanko Endowed Professorship in International Economics and Finance and the Director of the International Development Internship Program at SU.  She has taught previously at the College of Business Administration, Ohio Northern University.  She earned her Ph.D. from the Department of Economics at University of Massachusetts, Amherst. Dr. Rishi is a member of the American Economic Association and the Committee on the Status of Women in the Economic Profession.  She is also the Executive Director, Association of Indian Economic and Financial Studies and is on the Research Council of the Indian Institute of Finance.
Dr. Rishi's research focuses on economic development challenges faced by emerging economies, such as capital flight, sustainable economic development, and the role of entrepreneurship in economic growth. She has published 37 journal articles in journals such as the Journal of Development Studies and IMF Survey that are highly regarded in her field.  She has also authored numerous conference presentations and proceedings.
Dr. Rishi is active in local theatre and an eager volunteer for various events organized by Seattle's South Asian community. She has performed in: Dance Like a Man (ACT Theatre, 2015); Kingdom of Cards (Meydenbauer Center, 2012), and Mother in Another Language (ACT theatre, 2010).  She has also been part of the vision group for Seattle's Yoni Ki Baat (The South Asian adaptation of the Vagina Monologues) and has participated in the show (2009, 2010) as well as directed it in 2013. She has also collaborated on several events organized by the Gardner Center for Asian Art and Ideas at the Seattle Asian Art Museum.