Seattle Asian Art Museum, Seattle – Thursday, October 22nd – 6:30 PM
Threads, Cathy Stevulak, 2015, Bengali / English, 30 min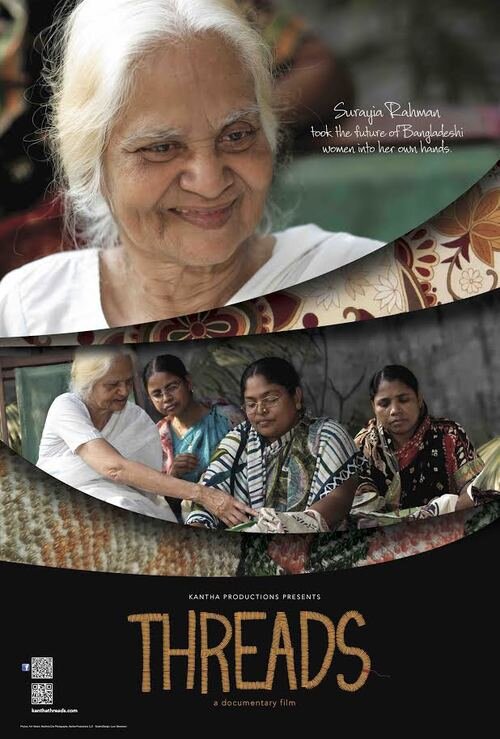 Logline: Women artisans, once destitute young mothers, have supported their families over the past 30 years, stitch by stitch.
Synopsis: Down a narrow lane flanked by garment factories they came to her, over roads and over rivers, for inspiration, for guidance, for work. She is Surayia Rahman, a self-trained, passionate artist who guided hundreds of underprivileged women in Bangladesh to create masterworks.  This exquisitely hand-embroidered art has been gifted to dignitaries and admired in collections throughout the world.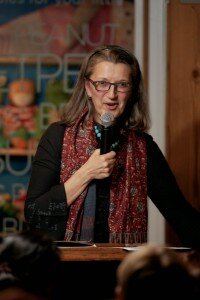 DIRECTOR BIO
Cathy is a Canadian filmmaker, born in a small coal-mining town in the foothills of the Rocky Mountains.  Ten years ago, while living in Bangladesh and working as a senior adviser with United Nations Development Programme in Bangladesh, she met many women who were quietly revolutionizing their own lives through art and craft, looking to their own culture and resources to do so.   Their resilience reminds her of the struggles in the stories of her ancestors, their inspiration a glow that needs to be shared.  Cathy worked across Canada and internationally as a public affairs and international development consultant.  Threads is her debut as a documentary director.
SHE CREATES TO CONQUER, Sarmistha Maiti, 2015, english, 27 mins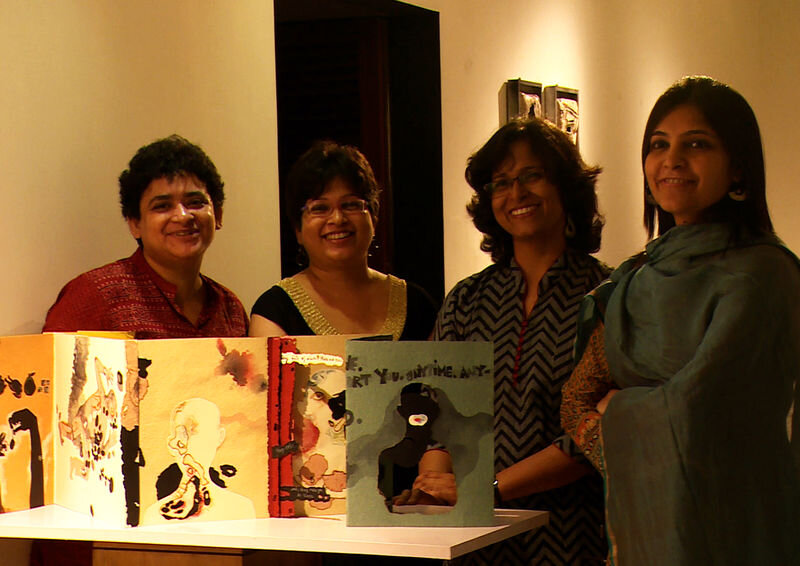 Logline: The position of women artists in the field of Visual Arts in India while focussing primarily on the artistic journeys of Amritah Sen, Nobina Gupta and Falguni Bhatt.
Synopsis: The film is about three young female artists -Amritah Sen, Nobina Gupta and Falguni Bhatt – experimenting with alternative and new-age mediums and striving to make their presence felt in the male-dominated art circuit of India. The film incorporates a plethora of viewpoints from varied artists, art critics, academicians, historians, gallerists and a personalized journey through the filmmaker's eye who is also an art critic and curator.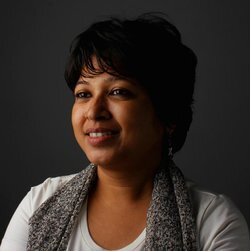 DIRECTOR BIO
Sarmistha Maiti (born December 1979, Haldia, West Bengal) had a dream of becoming a writer since her childhood, which she spent in different industrial townships across the country travelling with her parents. Her father, an Engineer in a Public Sector Company, wanted his daughter to also be an Engineer. But encouraged by her husband of twelve years, a celebrated artiste, she went against her father and took up first graduation and then post-graduation in Comparative Literature from Jadavpur University, Kolkata. She started her writing career as a Journalist in Hindustan Times, Kolkata in 2000 followed by the Times of India, Kolkata and then as a Copywriter in an Ad Agency. In 2007, she also took up a Course in Filmmaking from Satyajit Ray Film and Television institute as an Editor, where she met Rajdeep, their diverse backgrounds initially providing a backdrop for great conflict and later for great collaboration.