Mobius Hall, Screen I – Sunday, October 13th – 12:00 PM
Cell Phone, Phulman Bal Tamang, 2012, Nepali, 16 min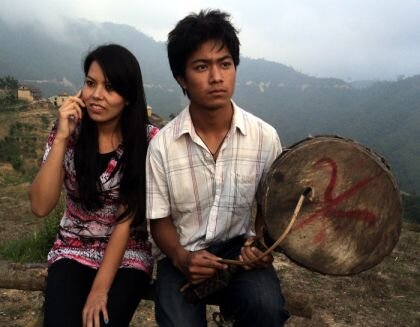 Choiku is a young boy who lives in a village near the Kathmandu valley. He belongs to a middle class family. His father is a hereditary shaman and dreams of his son to follow his traditional profession. Choiku is secretly in love with his cousin sister – Palmo, who comes to stay in his for few days. Choiku spots Palmo talking with a guy who promises to gift her with a mobile phone. Palmo seems attracted to that guy as she expects to get a mobile phone. Knowing this, Choiku struggles a lot to get a mobile phone to impress Palmo. He even tries to steal other's cell phone and his mother's money as well but never succeeded. Ultimately, he goes to Kathmandu to sell a dhyangro – which symbolized one of the significant heritages in Tamang community. He returned to his home with a mobile phone but found his father is ill. At the end, he regrets his act.

Director Bio
Phulman Bal Tamang was born in Timal, Kavrepalanchok, the cultural land of Tamang community of Nepal . He is a journalist, writer and filmmaker He has been working in Kantipur National daily since one decade. Now he is Bureau Chief of art and culture department of Kantipur Daily. His First book was 'Kaajol Khatoon', a story collection based on war and conflict of Nepal and he just published a poem collection named 'Mahabharat ki maichyang', this anthology has awarded 'Garima Samman Award' from Shaja Prakasan, the book publication wing of Nepal Government. Cell phone is his first short film. it has achieved Encouragement Award in Nepal International Indigenous Film Festival (NIFF)- 2012. He is now working two film project named 'Soi Bonpo Soi' (The Dancing Shaman) and 'Timal Trip'. He is also founder Chairperson of Community Radio Namobuddha FM, Dhulikhel Kavre.
Monday Assembly, Muvindu Binoy, 2013, Tamil / Sinhalese, 18 min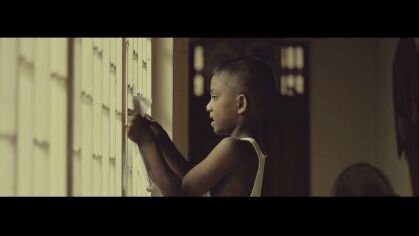 "MONDAY ASSEMBLY" is a drama set in the present day Colombo. It's a story about Srikanth, a six year old Tamil boy who cannot speak Sinhalese, and his struggle to learn the national anthem which is in Sinhalese. When he is asked to sing the national anthem in the morning assembly at school, he has no idea of how he's gonna learn the anthem within two days.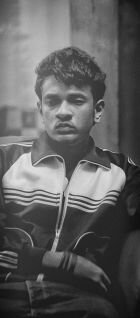 director bio
Muvindu Binoy is a Sri Lankan film director, writer and producer. He has directed and produced several Short Films and Music videos. Most of his work can be found online on YouTube. In 2012 his short film "Arctica" won the award for the "Most Promising Film Maker" at the 2012 Agenda 14 Short Film Festival.
He won the "Best Director" and the "Best Rock Video" awards for "Dasin" Music Video in 2011 DERANA MUSIC VIDEO AWARDS. And he also won the "Best Rock Video" award for "Piyawuna" Music Video at the 2012 DERANA MUSIC VIDEO AWARDS. He's now currently working on his debut feature film.
Do Pahar, Sharifa Roy (Mother) & Shazia Shrivastava (daughter), 2012, Marathi / Hindi, 29 min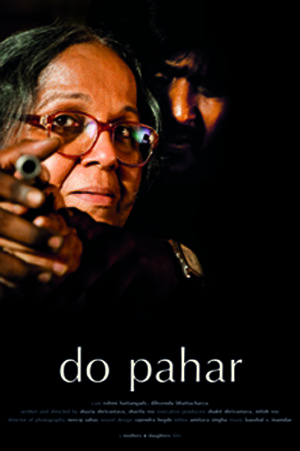 Do Pahar is about an unlikely bond that develops between an elderly, abused woman and a hit man when, curious by nature, she invites him into her house (a perfect place to keep vigil on his target). Yet, while he is a killer, he's also sympathetic and while she is old and abused, she's also stubborn and fearless. As the afternoon progresses, she kindles in him a few forgotten childhood memories while the hit man by his very nature invites her to confess her darkest desires. Just this one afternoon alludes to a lifetime for the two as they break moral stereotypes. While she discovers her 'knight in shining armor' in the hit man, he in turn finds in the old woman, his 'perfect partner in crime'.
director bio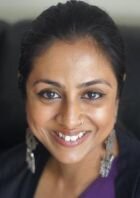 SHAZIA SHRIVASTAVA (Writer/Director)
Born and raised in India, Shazia Shrivastava earned her first degree in Literature from Mumbai and a second degree in Directing from New Zealand during which she directed short films, theater pieces and documentaries. Her graduate film, Downtime was screened at the Belladonna Film Festival in Christchurch.
She then returned to India to work on Rajat Kapoor's feature film, Mixed Doubles as an Assistant Director. She was also an Assistant Director and Stage manager on the Los Angeles production of Richard Kalinoski's award winning play, Beast on the Moon produced by Olga Konstantulakis. She recently assisted Scott Z. Burns (Screenwriter on The Informant, Contagion) on his short film, Sex Scientists.
She lives in Los Angeles and works in Mumbai with her mother and writing partner, Sharifa Roy under their company, Mothers & Daughters Films.  Do Pahar is her first independent short film as a Writer/Director.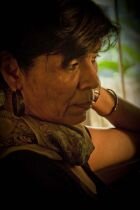 SHARIFA ROY (Writer/Director)
Sharifa Roy is a Writer/Director at Mothers & Daughters Films, co founded with her daughter, Shazia. She started her career teaching English Literature in high school for seven years. But films always beckoned and her first opportunity came in the form of a TV play she wrote and directed for Doordarshan in 1989.
Links
Accolades
Nominated for "Best Short" at the New York Indian Film Festival 2012
Winner of BEST SCREENPLAY at the Jaipur International Film Festival 2013
Nominated for BEST FILM, BEST SCRIPT and BEST ACTRESS at the Rolling Frames Film Festival, Bangalore 2013
Winner of  Best Fiction Film at the Central Illinois Feminist Film Festival 2013
In Search of a fairy tale ( roopkothar sondhane), Joydeep Das, 2013, Bengali, 35 min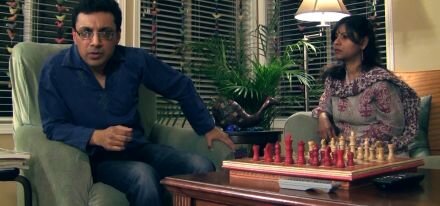 An NRI couple's accidental journey takes them back to their fundamentals and also helps them to reinvent their relationship.
In our busy urban lifestyle, relationships take a back seat. Is it due to lack of time or intention? Does technology play a role in relationships? In our quest towards achieving more do we forget our earlier footsteps? Roopkothar Sondhane attempts to explore these questions against the backdrop our current day society and lifestyle.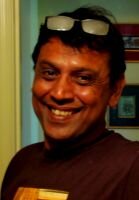 director bio
Joydeep is a self taught filmmaker. Joydeep's passion for making his own film someday was pursued with hours of studying, reading and researching the world of movie making, while working in a completely non-related world of finance. Roopkothar  Sondhane (In Search of a Fairytale) completed in July 2013 is Joydeep's first film. The story, script, cinematography and music design of this film has also been done by Joydeep.