Sceening Room, Monday, Nov 3rd, 4:00pm
Song Of The Blue Hills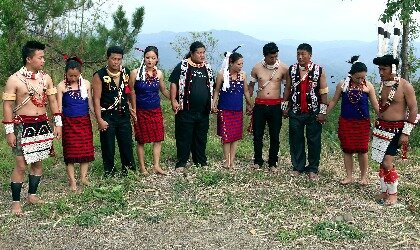 At the turn of the 20th Century, Naga folk songs had taken a back seat as the early Western missionaries opposed singing of folk songs because they were perceived to be associated with primarily spirit worship. But now, while traditional folk music has staged a comeback, younger Naga musicians are also trying to marry their music with other forms of music – be it Jazz, Blues, Western Classical or Choral – to take these traditional, ancient sounds to a much wider, worldwide audience.

India/Nagaland/2013/97mins
Director: Utpal Borpujari
A Golen Lotus award winner for film criticism at India's National Film Awards, Utpal Borpujari worked as a professional journalist for nearly two decades before turning a filmmaker. He has several documentaries, including "Mayong: Myth/Reality" which travelled to several international film festivals and got distributed nationally in the home video segment. Songs of the Blue Hills has also travelled to over 10 international film festivals till now. He is currently working on a documentary on the battles of 2nd World War in Manipur and Nagaland.
Nagamese with English subtitles
Accolades
11th Eyes & Lenses Ethnographic Film Festival, Warsaw, Poland (April 2014)
New York Indian Film Festival (April 2014)
Gothenberg Indie Film Festival, Sweden
Visions du Reel, International Doc Market section, Nyon, Switzerland
World Music & Independent Film Festival, Washington, (In Competition) (August 2014)
Signs 2014, Kochi, India (In Competition) (May 2014)
Ischia International Film Festival, Ischia, Italy
Ladakh International Film Festival, India, In Competition, June 2014
International Documentary and Short Film Festival of Kerala, Thiruvananthapuram, India, Focus (Long Documentary) Section
21ST Document.ArtXXI, Bucharest, Romania
Asia Pacific Screen Awards
2nd Parma International Music Film Festival, September 2014