Thurs, Oct 29th, 5 PM: Symposium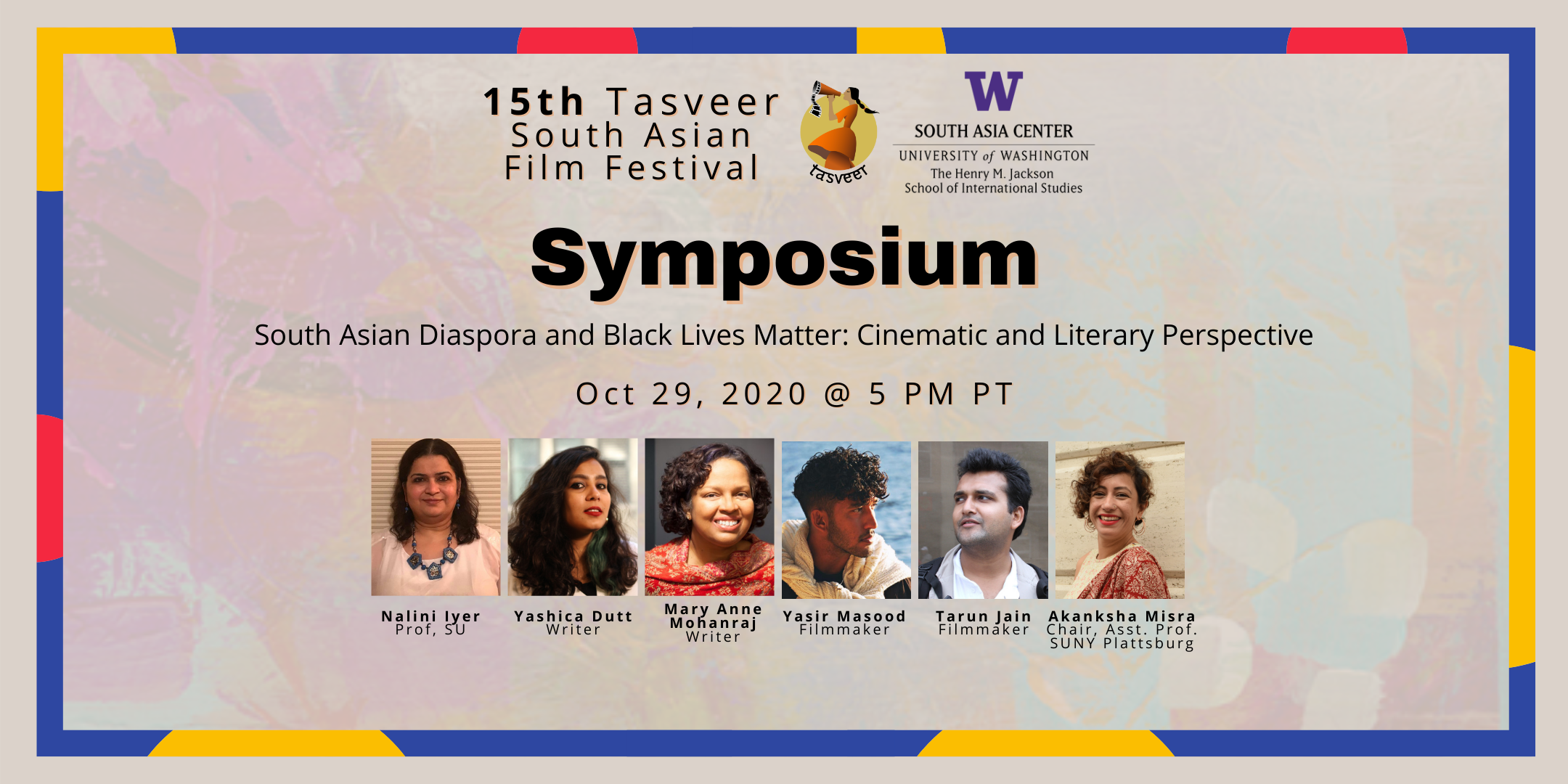 South Asian Diaspora and Black Lives Matter: Cinematic and literary perspective
Please register here to watch the panel. The symposium is brought to you by the Tasveer South Asian Film Festival (TSAFF) in partnership with the University of Washington South Asia Center.
This symposium discusses the racial and political fallout of the May 2020 George Floyd murder, which has permanently transformed our world. Set against the Covid-19 pandemic that has exposed the racial fault lines in the US, this event has triggered a massive multi-racial and intergenerational Black Lives Matter movement – the largest protest since the Civil Rights movement: Monuments to colonizers, Confederates, and racists have been toppled across the country, calls for the abolition and defunding of the police continue to grow, and anti-Black racism has come to occupy the core of the national electoral debates.
As the movement for police accountability grows globally, we find ourselves located at an important historical conjecture. What role must the South Asian diaspora play in this struggle against anti-Black racism, especially since we migrated to the US on the back of the Blacks that birthed the 1965 Immigration Act? What is our responsibility in imagining a society that is committed to fighting systemic anti-Black racism? In what ways can we move beyond tokenistic support for the Black Lives Matter movement and advocate for policy reform in a genuine sense of the term? Given our social privilege and capital, how can we amplify disenfranchised voices?
The symposium brings together South Asian filmmakers, writers, scholars, and public intellectuals to discuss some of these key issues structured as below:
The representative power of film and literature in combating anti-Black racism
The politics of colorism and casteism from back home that makes us complicit in anti-Black racism in the US
The danger of "Brown silence" which reproduces racial hierarchies and does more harm than good by under-preparing South Asians for dealing with systemic oppression in the United States.
Panelists
Akanksha Misra (Assistant Professor, SUNY Plattsburgh) – Chair
Akanksha Misra received her Ph.D. in Gender, Women's and Sexuality Studies from the University of Washington in 2020. She has an M.A. in Cultural Studies from Sabanci University in Istanbul, Turkey and a Bachelor's of Engineering degree from Babasaheb Ambedkar Marathwada University, Aurangabad, India. Her master's thesis examined workings of feminist organizations in Turkey and India working with adult survivors of incest and child sexual abuse. Her doctoral dissertation research explored the creation of gendered and sexual citizenship through bodies of teachers and children in schools in India and Turkey. She is currently working on a book manuscript based on her dissertation and her article on sexuality education, history and racial violence in Turkey and India is forthcoming in Feminist Studies. She is a regular contributor to feminist platforms such as feminisminindia and is actively involved with the BIPOC social justice organization SABAH in Seattle and the Critical Caste Collective at the University of Washington.
Nalini Iyer (Professor, Seattle University)
Nalini Iyer is Professor of English at Seattle University and current holder of the Theiline Pigott-McCone Endowed Chair for the Humanities. She teaches postcolonial studies including South Asian and African writing and courses on postcolonial and transnational feminisms. She has published three books and numerous articles and book chapters, and her research focuses on three interrelated areas: the hegemony of Anglophone writing in South Asia, South Asian diaspora studies, and Partition Studies. Her publications include the following: Other Tongues: Rethinking the Language Debates in India (co-edited with Bonnie Zare, Rodopi 2009); Roots and Reflections: South Asians in the Pacific Northwest (co-authored with Amy Bhatt, University of Washington Press 2013); and Revisiting India's Partition: New Essays in Memory, Culture, and Politics (co-edited with Amritjit Singh and Rahul K. Gairola, Lexington 2016/Orient Blackswan 2016). She is the Chief Editor of South Asian Review. She is currently working on a monograph that examines racialization in South Asian American literature and is co-editing (with Pallavi Rastogi) a volume on teaching Anglophone South Asian Diasporic Literature.
Yashica Dutt (Author)
Yashica Dutt is a journalist and the author of Coming Out as Dalit. She spent a decade covering arts, culture, and fashion in New Delhi and a lifetime hiding her Dalitness to pass as 'upper' caste. Until she 'came out' as Dalit in a Facebook note and wrote a book that's part non-fiction, part-memoir and wholly a scathing account of how the caste system operates and affects Dalits in today's India. Hint: brutally. Her work explores the intersection of caste, class, and gender and seeks to expose caste as the 'the invisible arm that turns the gears in nearly every system in India'. Coming Out as Dalit has received immense critical acclaim from the press and the readers. It has been called an "Eye Opening Contribution to Dalit Literature" and a book that will likely play "a major role in influencing the Millennial expression on being a Dalit." Dutt graduated from Columbia Journalism School and lives in New York. She is planning to soon release Coming Out as Dalit worldwide.
Mary Anne Mohanraj (Author)
Mary Anne Mohanraj is author of A Feast of Serendib, Bodies in Motion, The Stars Change, and twelve other titles. Other recent publications include stories for George R.R. Martin's Wild Cards series, Perennial: A Garden Romance (Tincture), stories at Clarkesworld, Asimov's, and Lightspeed, and an essay in Roxane Gay's Unruly Bodies. Mohanraj founded Hugo-nominated and World Fantasy Award-winning speculative literature magazine Strange Horizons, and serves as Executive Director of both DesiLit (desilit.org) and the Speculative Literature Foundation (speclit.org). She is Clinical Associate Professor of fiction and literature at the University of Illinois at Chicago.
Tarun Jain (Filmmaker)
Tarun Jain is an acclaimed filmmaker. His short film Amma Meri which was set on the backdrop of agrarian crisis had won many accolades at various prestigious festivals across the globe. It was screened in over 48 festivals including the Oscar Qualifying Tampere Film Festival, IFFI Goa, MIFF, IDSFFK, Dharamshala and many more. His latest film Kaala is based on the racist attacks on the Africans in Delhi. It had its world premiere at the Oscar Qualifying Cinequest Film and VR Festival in the USA this month and also played at Rapid Lion Film Festival in Johanesberg, South Africa.
Yasir Masood (Filmmaker)
Yasir Masood is a Muslim-American filmmaker from Houston, TX, creating work that expands and champions national conversations on migration, masculinity, and the working-class experience in America. Being a self-taught filmmaker, Yasir got his start adapting The Last Hunt, a true story of his Grandfather's experience getting robbed as a gas station clerk in America, which premiered at the Austin Film Festival and is currently streaming on Streampix. Since then Yasir has been directing films that explore the nuance and sacrifices involved with being an immigrant in America. Professionally, Yasir was formerly the Director of Content for the International WOW Company as well as a Campaign Producer for We Stand United, Mark Ruffalo's voting advocacy group.