HUGO HOUSE, Seattle, January 11th, Friday, 7:00pm
Opening Night with Amitava Kumar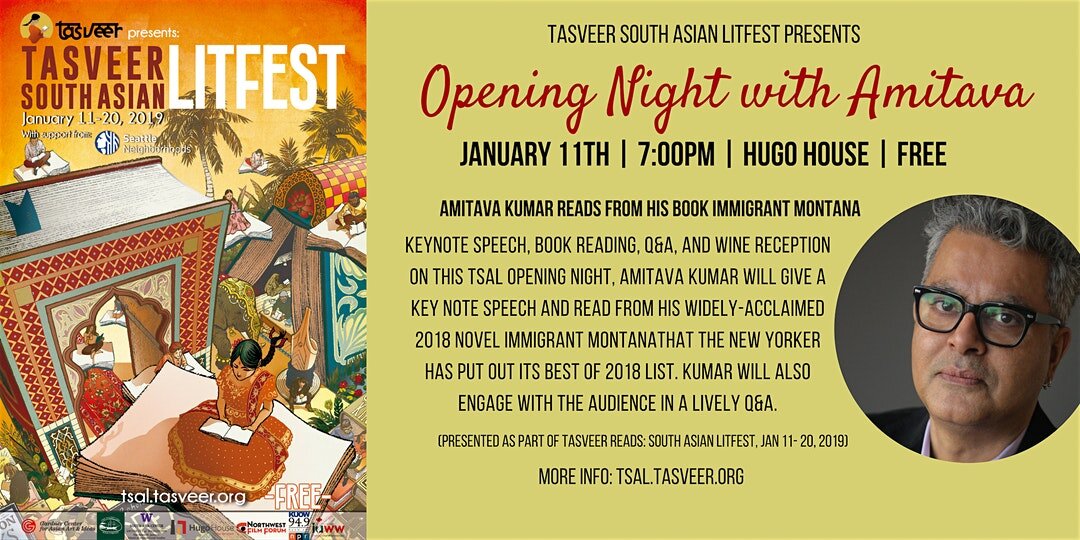 Keynote speech, Book reading, Q&A, and wine reception
On this TSAL opening night, Amitava Kumar will give a key note speech and read from his widely-acclaimed 2018 novel Immigrant Montana, which The New Yorker has put on its best of 2018 list. Kumar will also engage with the audience in a lively Q&A.
Moderator: Alka Kurian is Senior Lecturer at the University of Washington, Bothell, where she teaches postcolonial film and literature, gender studies, and human rights. Alka has published Narratives of Gendered Dissent in South Asian Cinemas (2012, 2014) and co-edited New Feminisms in South Asia (2017). She has a new novel manuscript titled A Bitter Inheritance.
AMITAVA KUMAR
Amitava Kumar is a writer and journalist. He was born in Ara, and grew up in the nearby town of Patna, famous for its corruption, crushing poverty, and delicious mangoes. Kumar is the author of several books of nonfiction and a novel. He lives in Poughkeepsie, in upstate New York, where he is Helen D. Lockwood Professor of English at Vassar College. In 2016, Amitava Kumar was awarded a Guggenheim Fellowship (General Nonfiction) as well as a Ford Fellowship in Literature from United States Artists.
Immigrant Montana
The young man is Kailash, from India. His new American friends call him Kalashnikov, AK-47, AK. He takes it all in his stride: he wants to fit in–and more than that, to shine. In the narrative of his years at a university in New York, AK describes the joys and disappointments of his immigrant experience; the unfamiliar political and social textures of campus life; the indelible influence of a charismatic professor–also an immigrant, his personal history as dramatic as AK's is decidedly not; the very different natures of the women he loved; and of himself in and out of love with each of them. Telling his own story, AK is both meditative and the embodiment of the enthusiasm of youth in all its idealism and chaotic desires. His wry, vivid perception of the world he's making his own, and the brilliant melding of story and reportage, anecdote and annotation, picture and text, gives us a singularly engaging, insightful, and moving novel–one that explores the varieties and vagaries of cultural misunderstanding, but is, as well, an impassioned investigation of love.