SIFF Film Center, Seattle, Sept 28th, Saturday, 2:15pm
Short Film: Turtle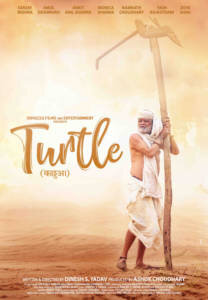 A folktale is a fabrication of anecdotes by our ancestors in the past, foreseeing our present of the eventualities in our future. In this folktale, Turtle digs the earth to deepen the water. The film is a metaphorical depiction of the turtle; in a drought-struck village of Rajasthan, Ramkaran Chowdhary is churning the parched, sun-baked earth to extract water, while the common folk indulge in a tug-of-war, rotating on his shell, desperate to quench their thirst.
Our sardonic folklorist, the alghoza, is like the effusive river of sand flowing in the desert, who has intertwined in his ceaseless moustache mythical allegory and macabre images in this rustic tale of the desert. Here, by means of spells, black magic, and incantations, the village folk try to rid themselves of a calamitous jinx that has led all the water bodies in the area to dry up.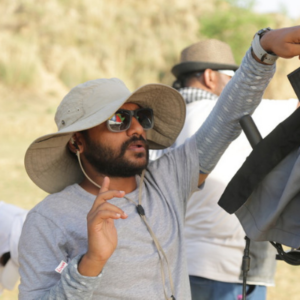 Dinesh S. Yadav | 64min | 2019 | India
Filmmaker: Dinesh S. Yadav
Hailing from a pilgrimage site in India, Maheshwar, Dinesh S. Yadav, more than a director, is an 'evocateur.' To satisfy a quest for self-realization and in search of himself, he found the art of filmmaking, which was shaped by the Film and Television Institute of India (FTII).
Before taking up film editing from the FTII, he did his Masters in Television Direction and Graduation in Film and Television production from EMRC, Indore. But long before he started his formal education in filmmaking, he came onto the floor with a couple of music videos, animation videos, theatre, and short films. Two of his short films, Aashadh (monsoon) and Umas, (Stifle, or Suffocation) were critically acclaimed, winning him awards in international and national film festivals. Turtle is his debut feature film; in it he has soulfully and skillfully interweaved the subject in a story and braided macabre images in the desert with the echoing sounds of the chants into the moustache of the Alghoza.
Short Film: Unkept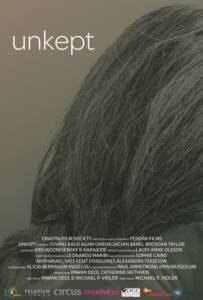 Sweet and playful Kamal is a 10-year old boy who loves his mom and baseball, but he's beginning to realize that he doesn't look like the world around him. The strength of the bond between mother and son is especially revealed through these beautifully intimate moments between mother and son. This film is a story of belonging, one where a little boy's distinctive appearance makes him feel left out and alone. Kamal doesn't know it, but he is engaged in one of life's greatest battles, the one for his identity. Kamal struggles between who he is and who he is expected to be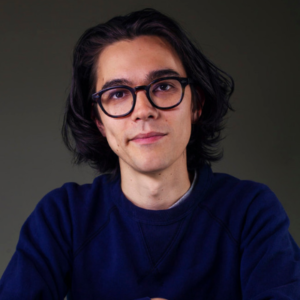 Michael P. Vidler | 16min | 2019 | Canada
Filmmakers: Michael P. Vidler
Michael Vidler is an independent film director whose innovative work has been repeatedly recognized across mediums. His recent work has been showcased in internationally renowned venues including Vancouver's highly competitive Crazy 8s, where his script for UnKept, was selected as one of only six entries accepted from a group of 200 applicants. His film, William Wishes, was awarded Best Short Film, Best Screenplay, and Best Editing in the Albuquerque Mindfield festival. An earlier production, the psychological thriller Mine, was selected as Best International Short at the Williamsburg film festival in 2015 and is currently featured on Direct TV and Amazon Prime. With a full-length production planned for 2021, his original signature can be seen in commercial work such as Hockey Night in Punjabi as well as in music and commercial videos. Not only does Michael excel in working with diverse film styles and formats, he consistently brings project work on deadline within budget.
Short Film: Hargun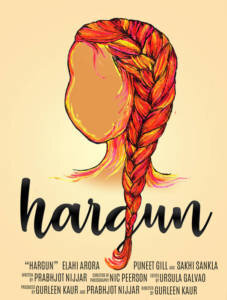 The story revolves around a bright young elementary school student named Hargun who has taken the mission upon herself to become a part of the popular kids. Leaving her old friends behind, she does everything in her power to impress Syra and her crew. And after being rejected numerous times, she realises who her true friends really are.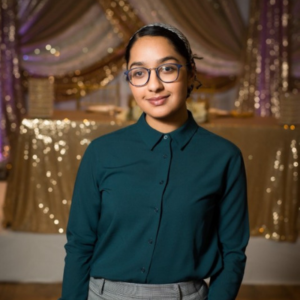 Gurleen Kaur | 11min | 2019 | Canada
Filmmaker: Gurleen Kaur
Gurleen Kaur is an emerging filmmaker, screenplay writer, and photographer studying at Capilano University. She has photographed numerous community events, along with directing a handful of short films. Her volunteering within her Sikh community has taken her on a journey where she has coordinated and curated art exhibits at Guildford Mall and at Surrey City Hall. She believes in bringing her culture and heritage into her work of art and that is what drives her to do what she does. She enjoys hiking and archery, taking them as a means to refocus on her goals.