Roxy Cinema, Renton, Sat, Nov 8th, 12:00pm
Kapus Kondyachi Goshta(Unending Story)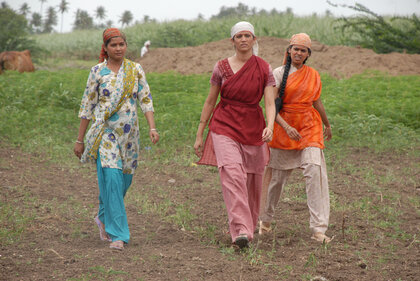 A Story of triumph over tragedy, where the strong will of simple village girl wins over all odds to become as inspiration for all. It is these grim circumstances unfold the story of Jyoti along with her three sisters stands against village head, and ever- fickle villagers. This film inspires while giving you deep insight into the lives and struggles of the heart of India.

India/2014/111mins
Director: Mrunalini Bhosale
Marathi with English subtitles
Born in India, Mrunalini Bhosale has a Degree in Literature. Over the span of her career, Bhosale has produced & directed 50 documentary films in 4 Indian Languages. One of her films, Jaivik Kheti, has won two National film Awards (Best Film & Best Direction) from Hon. President of India. Bhosale also does agricultural programs for farmers on Doordarshan Sahyadri Channel, which is inspired by her spouse's (Nitin Bhosale) family business of agricultural information. Mrunalini and Nitin have two children. Kapus Kondyachi Gosht (The Unending Story) is her debut feature film.
Links
Accolades
Best Feature Award, Dadasaheb Phalke Film Festival, Delhi (2014)
Best Feature Award, Indian International Film Festival of Queensland in Brisbane, Australia (2014)
Nominated for Best Feature Film Category, Gwinnett Center International Film Festival (2014)