SIFF Cinema, Seattle – Sunday, October 6th – 12:00 PM
Valley of Saints, Musa Syeed, 2012, Kashmiri, 82 min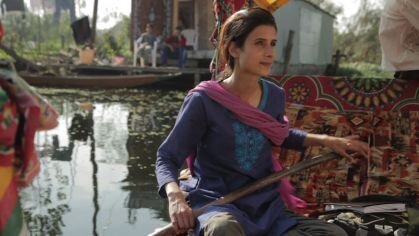 Widely considered to be the crown jewel of Kashmir, Dal Lake is a sprawling aquatic community where erupting political violence often distracts from the natural beauty. Gulzar, a young, working-class boatman, plans to skip town with his best friend in search of a better life, but a weeklong military curfew derails their departure. Forced to wait it out, Gulzar takes a job assisting a pretty scientist named Asifa. As they navigate the floating landscape, collecting water samples for an environmental study, an unlikely relationship blossoms between the two. When Asifa's research reveals harmful pollutants, Gulzar realizes that the ecology of the lake and an entire way of life face an alarming threat, and everything in his own life begins to take on a new hue.
Lush cinematography heightens the region's visual splendor in this enlightening feature debut from Musa Syeed. Intricately weaving contemporary issues with traditional culture and ancient myths, VALLEY OF SAINTS is a vibrant, lyrical film about finding one's path home in a changing world.

Director Bio
As writer/director, Syeed received the Alfred P. Sloan Feature Film Production Award for his screenplay of "Valley of Saints", a New York Foundation for the Arts fellowship, and a National Geographic All Roads grant. In anticipation of the film, he was named one of the "10 to Watch in 2010" by the Independent Magazine. The film also participated in BAVC's Producers Institute for New Media Technologies, where Syeed developed a new media engagement project for the film. He recently completed production on 30 MOSQUES, a feature documentary following two young American Muslims journeying to 30 mosques in 30 days across America. As part of the project, he developed an interactive storytelling platform at ITVS/Mozilla's Living Docs Hackathon.
Links
Accolades
Winner of World Cinema Audience Award 2012 Sundance Film Festival
Winner of Alfred P. Sloan Foundation Feature Film Prize 2012 Sundance Film Festival
Tamaash (US Premiere), Satyanshu & Devanshu Singh, 2013, Kashmiri, 32 min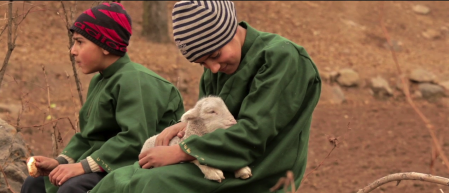 No one appreciates the goodness little Anzar has and all want to change him, until things go out of control in a magical, mysterious way…
SYNOPSIS: Nine-year old Anzar faces scorn from his elders for his poor performance in school and is constantly compared to the other school-kids. His only true companion and friend is his kid brother, Mufeed. Forcefully and unreasonably expected to outscore the high-achieving Sadat in the next exam, Anzar seeks the help of a mysterious stranger. But following his advice may have serious and unintended consequences for Anzar and his kid brother.

Director Bio
A medicine graduate, Satyanshu Singh joined his younger brother Devanshu, who was working as Dialogue Coach, Script and Continuity Supervisor and Assistant Director even before finishing his graduation in Mass Media. They wrote the poems and a short story that featured in "Udaan" (2010, Vikramaditya Motwane), an Un Certain Regard nominee at Cannes 2010. They also wrote the song "Life yeh mausambi-si" for "Ferrari ki Sawaari" (2011, Rajesh Mapuskar). Self-taught film-makers, the two are full-time screenwriters, poets, and teachers and aspire to direct their first feature soon.