Northwest Film Forum, Seattle – Saturday, October 7th – 7:00 PM
KHIDKEE: A housewife, Madhu, and a screenplay writer, Ashween, live across the road from each other, and get glimpses of one another's lives from their living room windows. Little do they know that their minds have their own windows…
SHANIVAR KO DO BAJE: This story explores the connection that has formed between two people within and despite the restrictions imposed by the clandestine nature of the relationship.
LEECHES: In the chaotic 'old city' of Hyderabad, 18-year-old Raisa hatches a dangerous and improbable plan to save her younger sister from becoming a one-day bride.
Presented in partnership with Pratidhwani.
$12 Regular | $10 Student/Senior (with ID)
$10 Early Bird (through 9/30)
Khidkee, Rohan Kanawade, 2017, English / Hindi / Marathi, 40 min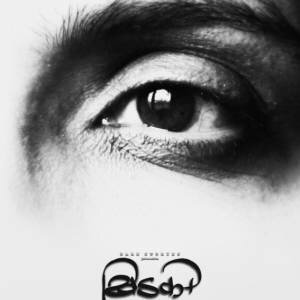 Madhu is a middle-aged homemaker whose world currently revolves around taking care of her paralytic bed-ridden husband. Her only distraction is Ashween, a youngster, who lives in the opposite building and whom she can see through her living-room window. Ashween's constant indulgence in alcohol and smoking raises Madhu's anxiety about her own son's lifestyle who's working abroad.
Ashween, who is trying to write his second feature film, also gets frequently drawn to his living-room window, through which he can observe Madhu and her activities. He forms his own perception about the middle-aged lady who also seems to be frequently gazing at him.
What are the windows showing? Is there something happening beyond the windows as well?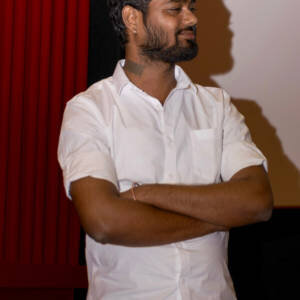 Director Bio
After completing Interior Designing in 2006, Rohan worked with architects as a designer. Having no background or qualification in filmmaking, he made his first film in 2008 on a mobile phone. Later, to invest more time in writing and films he left his full-time job and started working as a freelance interior designer. His short film Ektya Bhinti won him his very first international award as "Best Emerging Filmmaker" in Kashish MIQFF in 2013 Mumbai. In 2015 his film Sundar was selected for the Iris Prize UK along with other thirty international films. Sundar was screened in fifteen international film festivals, winning five awards.
Shanivaar Ko Do Baje, Parimal Aloke, 2016, Hindi, 33 min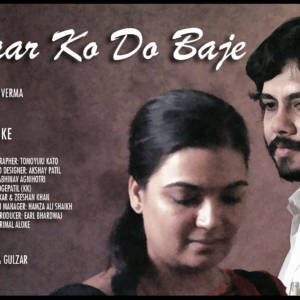 Shanivaar Ko Do Baje is the story of an extramarital affair between two office-going people. They have a clandestine rendezvous, practically every Saturday at two, at a borrowed nest; or is it just that? While the sexual aspect of a man–woman relationship is being fulfilled between the spinster and the married man, what binds them together is not merely the physicality of the relation but even more, the "family" bond that they have developed. It is a bond that is lost in their respective families but exists in this relationship that society likes to label "illegitimate." It is a bond where they still enjoy talking to one another.
The story explores the connection that has formed between the two within and despite the restrictions imposed by the clandestine nature of the relationship.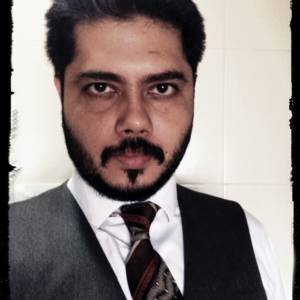 Director Bio
Parimal started work at Zee Music in 2004 as a VJ for their live dial-in show. His first interview was with ghazal maestro Jagjit Singh. He became a part of Motley in 2005, where after being a part of the crew for a few plays he finally had his first stage performance in 2008 with Antigone. He had the treat of his life, being directed by the Master Craftsman Pundit Satyadev Dubey and the cherry on the cake was sharing the stage with not one but many legends like Naseeruddin Shah, Ratna Pathak Shah, Benjamin Gilani, Akash Khurana. After such a treat, the hangover continued when Mr. Naseeruddin Shah cast him in the next play he was directing, Herman Wouk's The Caine Mutiny Court Martial. For a good part of 2006 Parimal worked in a TV serial which aired on Star One, India Calling. Parimal had an opportunity to work with Vishal Bhardwaj in his film Blood Brothers, which was made for the Bill Gates foundation for AIDS awareness. Along with his friend he made a one-minute silent film, depicting the power of language called Checkmate, which was judged as one of the top 10 films at the Power of Language Short Film Festival, Berlin 2007. In 2011, along with a couple of friends he made a 10-minute short film, Afterlove. 2012 began with the release of his second movie Saada Adda, where he plays a character called Safal Yadav. Parimal has just finished a short film, Saari Raat, which he directed, acted in, and co-produced.
Leeches, Payal Sethi, 2016, Urdu, 27 min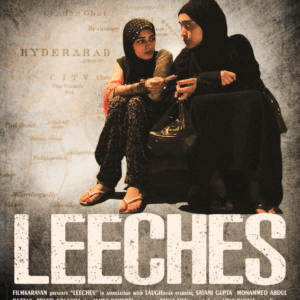 Raisa lives with her Ammi and three younger sisters in Hyderabad's Old City. When Ammi promises her 13-year old daughter, Zainab, in marriage to a foreign businessman, Raisa decides to save her little sister at any cost.
In an old custom that has found new roots among poor families in Muslim ghettos, rich patrons pay for an arrangement brokered by efficient agents, while a pliant cleric draws up both marriage and divorce contracts simultaneously, so that the businessman is free to end the sham union whenever he is ready to leave the city.
Desperate to find a way out for Zainab, Raisa hatches a dangerous and improbable plan involving an archaic remedy that claims to restore a girl's virginity.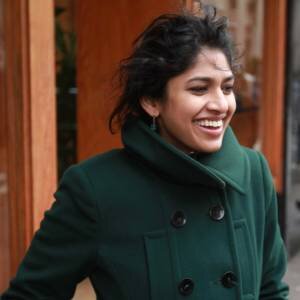 Director Bio
Payal Sethi's relationship with fiction dates back to age nine, when her eccentric grandmother took to translating James Hadley Chase novels into the Tamil language as a hobby. Six years later, she wrote a personal eulogy for her grandmother that was published in the regional newspaper. Taking this as a sign of encouragement, she left India to pursue a Creative Writing program at Vassar College. However, her campus job – projecting beautiful 16 mm prints of films through the ages  – planted the seed of studying cinema for the next four years.
Payal studied film history & production at Vassar and later, at NYU's Tisch School of the Arts. She then worked as an assistant to director Mira Nair on several of her productions, including Hysterical Blindness, Vanity Fair, and The Namesake. Following this, she held numerous roles within the independent film industry in New York at The Tribeca Film Festival, Independent Feature Project and the Mahindra IAAC Film Festival. In 2008, she co-founded the production and distribution company, FilmKaravan.
Payal made her directorial debut with the short film Grant St. Shaving Co., which won the best film award at The Smalls Film Festival and the Florence River to River Film Festival, and the Silver Palm Award at the Mexico International Film Festival.  Grant St. Shaving Co. was an official selection at over a dozen film festivals worldwide, and secured distribution in the US, UK, Turkey and Japan. In 2012, Payal received the Asia Society's New Voices Fellowship for Screenwriters for Panther, a wildlife crime thriller set in Ranthambore & Delhi. Most recently, she has written an adaptation of the Argentinean film, A Boyfriend for my Wife, for Azure Entertainment. Her latest short film, Leeches won the Grand Prix Internationale at the Brussels Short Film Festival and the Audience Award at the Seoul International Women's Film Festival, and was screened at 17 film festivals to date, including the Tampere Film Festival, Durban International Film Festival and the Palm Springs Shortfest.  Payal is currently working on her debut feature, Maya Deluxe.