Seattle Asian Art Museum, Seattle – 7:00 PM
Yoni Ki Baat is a growing collection of authentic, bold, vivid, tender, powerful and poignant stories narrated by South Asian women. YKB acknowledges that female sexuality is an essential aspect of identity, experience and expression. This space transforms and encourages South Asian women to express their challenges, hopes, dreams, breakdowns and aspirations for change.   Yoni Ki Baat is back for its 11th fabulous show in Seattle, directed by Afrose Fatima Ahmed.
Yoni is a complex word: it is used to refer to the vagina or vulva. Yet its literal meaning in Sanskrit is "sacred space" and it is a symbol for divine creative energy. When we get out of our heads and into our yonis, we find that they are telling stories; about our pasts, about our ancestors, about the world. Our yonis ask us to pay attention to our bodies; how we feel, what we need, what we desire. And they demand that we recognize that we are animals; born of yonis, born of this earth, connected to the land with an umbilical cord of light. Come share this sacred space with us and hear, see and feel the Yoni ki Baat of seven brave people.
Inspired by Eve Ensler's Vagina Monologues, Yoni Ki Baat was originally started by South Asian Sisters, a progressive collective of South Asian women based in San Francisco area in 2003. Today, Yoni Ki Baat is performed across the United States by South Asian women telling authentic, bold, vivid, tender, powerful and poignant stories. 5% of the ticket sales will be donated to API Chaya.
yoni ki baat stories
the yoni.
neeta: "enjoying every bite"
arti: "self love"
the body.
shreya: "suffocation hurts"
angeli: "sacred"
shanti: "when i dance"
the earth.
krysta: "gateway to my yoni"
anju: "i grew up here"
---
Yoni Ki Baat Profiles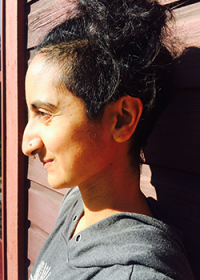 Afrose Fatima Ahmed
Afrose Fatima Ahmed is the YKB Director of 11th Annual Yoni Ki Baat. She is a Texan-Washingtonian hybrid. She holds an M.A. in Asian Studies from the University of Texas. Her most recent poetry chapbook is entitled blood gold & honey. afrose climbs in her spare time, in order to gain perspective.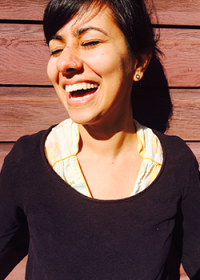 Neeta
Neeta moved here from the east coast in 2011 for ob/gyn residency training but really the motivation to move here was to be closer to her sister. When not working in the hospital, you can find her on the yoga mat, at the bouldering gym, organizing theme parties, making jam or baking up a storm. Cookbooks are her favorite bed time stories. Seattle is now home and she currently lives in Capital Hill with her partner and will be starting as a generalist ob/gyn practitioner this fall.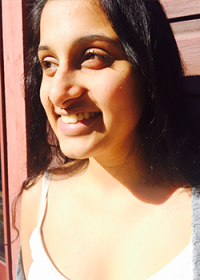 Shanti
Shanti has many names- like the Gods and Goddesses of Hinduism. Her parents named her Lakshmi Sahiti but she goes by Shanti. She's only recently entered her 20th year on Earth but she finds herself in trees that are a hundred times her age. She is a college student at the University of Washington. Shanti dances and writes and learns for a living.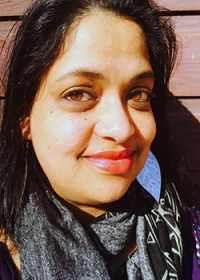 Anjulie Ganti
Anjulie Ganti works for the Indigenous Wellness Research Institute and is faculty at the UW School of Social Work.  She and Angeli directed YKB 2010. Her passions are reproductive justice, trashy, yet provocative television and knitting and list making. She's mom to "best-est" kids in the world Aruni and Isha and owes her sanity to her partner Rahul.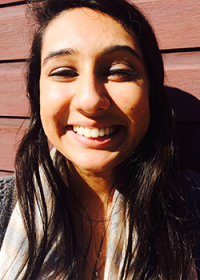 Shreya
Shreya – nocturnal. Often seen sitting in corners. Lover of hot caffeinated beverages, third year undergrad at the UW.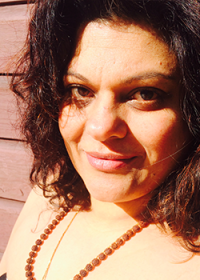 Arti
Arti, born in India, has always had a little trouble taming her wild streak. A physician by profession, currently working at The Everett clinic, she is integrating holistic healing approaches into the conventional medical model. Arti is actively focusing on self discovery and self love.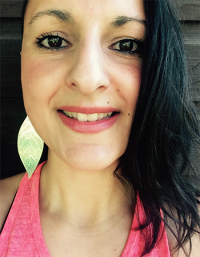 Krysta
Krysta was born in a small town, just north of Seattle, called Sedro-Woolley, WA.  Her formative years here, allowed her to develop her unique, dynamic, and witty personality.  Krysta identifies as a mixed-race, activist, and social worker that has a passion for all things good in life. When she has time for fun, she loves long hikes on many of the beautiful trails the Pacific Northwest has to offer.  To balance her active lifestyle, she also enjoys indulging and eating delicious food especially paneer pakora, chole bhatura, kulcha, and gulab jamun. Krysta is a current graduate student at the University of Washington who is looking forward to graduating with her 2nd Masters degree this June!  In June, she will have successfully completed a Masters in South Asian Studies and a Masters of Social Work degree.  Her father's side of the family hails from Jalandhar, India and her graduate coursework has allowed her to explore her own heritage and has taken her to India to study the Punjabi and Hindi languages.  She has intentionally focused her research on deepening her understanding of Sikh, Punjabi, and South Asian Diasporas. She has a strong desire to learn and grow as an Educator and Mental Health Practitioner and her long-term goal is to become a Licensed Clinical Social Worker (LICSW).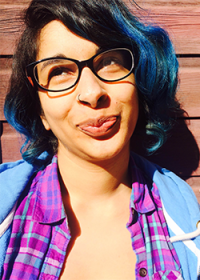 Angeli
Angeli is a Community Organizer with API Chaya, an organization that works to build power in Asian, South Asian, and Asian Pacific Islander communities. They also serve on the board of a Trikone, an organization serving the LGBTQ South Asian community. in 2012, Angeli obtained their MSW from the University of Washington's School of Social Work. They enjoy sewing, reading, and eating all Nutella based foods.